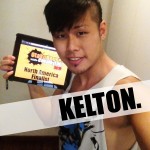 Biography
Cosplayer's Name: kelton.
Age: 23
Gender: Male
Started cosplaying since: 2007
Fave fictional character: Too many! But if I had to name some, Raiden from Metal Gear Solid and Dante from Devil May Cry!
Hometown: Greensboro, North Carolina

A Little About Me
My name is kelton. and I was born in North Carolina but I spent most of my life growing up in Singapore. I graduated from Lasalle College of the Arts in 2011 with a diploma in Fine Arts.

I've always loved costuming and makeup and I first got into cosplay when I was into Japanese Visual Kei bands at 14 and made a lot of my own clothes. I didn't actually start cosplaying until I was 17. I used to read a lot of manga like Hiroaki Samura's Blade of the Immortal and Hiroya Oku's Gantz but nowadays I usually play video games a lot more so most of my costumes are mainly video game cosplays.

Cosplay has always provided an outlet for me to learn new skills whether it be crafting armor or doing special effects makeup and this is why I love it so much. Wearing my costumes to a con and geeking out with other like minded people is one of the best feelings in the world. It's like wearing your artwork and becoming one with it!

Thank you to all who voted for me and got me into the finals! I really wasn't expecting it! So it would mean a lot to me if you would continue to vote for me and support my work!

<3 kelton.



Cosplay 1
Character: Raiden
Series Name: Metal Gear Rising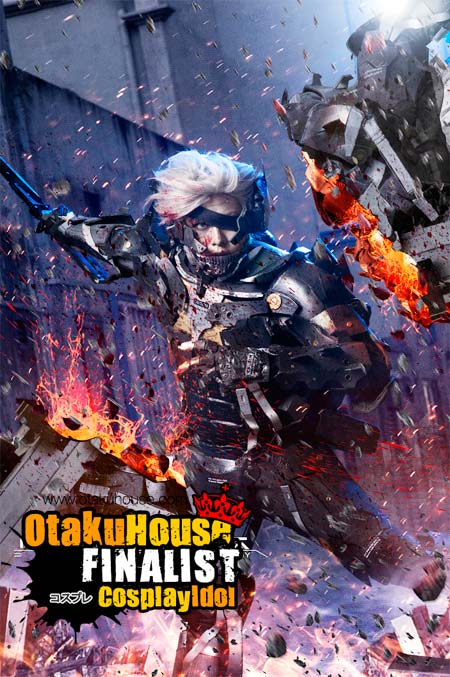 Description: Raiden from the Metal Gear Solid series has always been one of my favorite characters because of his intriguing backstory as a child soldier. When Konami finally gave him his own solo spin off game, I jumped at the chance to make his custom cyborg body. This was probably one of the most challenging outfits I've ever made because of the amount of detail involved. For example his holster - getting it to look like it is only attached to the mechanism on his side, as well as putting magnets on his heels so I could pose like he was holding his knife with his foot. I made the armor from eva foam and craft foam pieces and they are attached to the four way stretch lycra body suit with velcro. Smaller pieces are glued on while bulkier pieces are removable for easier transport and storage.
Photo Credits: Retina Productions/Reinier Tinapay https://www.facebook.com/retinaproduction
Cosplay 2
Character: The Executioner
Series Name: Alice Madness Returns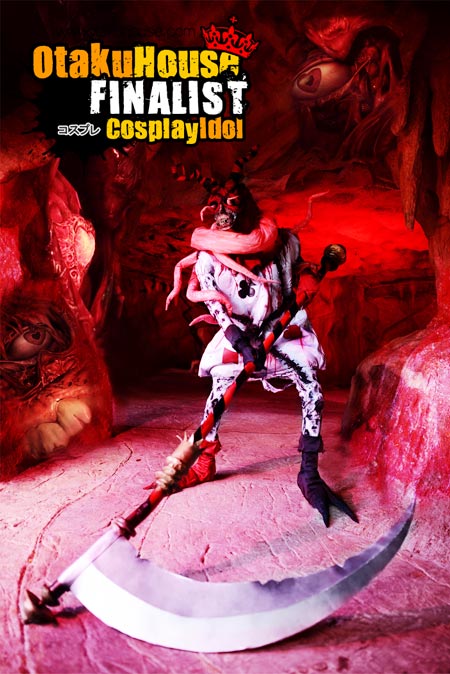 Description: Being a huge fan of the original American McGee's Alice, I always wanted to cosplay a character from the series and this year (2013) some friends and I got together and formed a small Alice Madness Returns group for a con in Singapore. This was pretty fun to make although getting the shape of the card body right was pretty tough initially, however I think it came together well in the end. It's a bit of a pain to walk around in since the head is made up of upholstery foam and gets really stuffy and I also can't really see. The tentacles were sewn from cheap cotton fabric and stuffed with polyfiber fill and galvanized wire for posability.
Photo Credits: Vaxzone http://vaxzone.deviantart.com
Cosplay 3
Character: Pyramid Head
Series Name: Silent Hill 2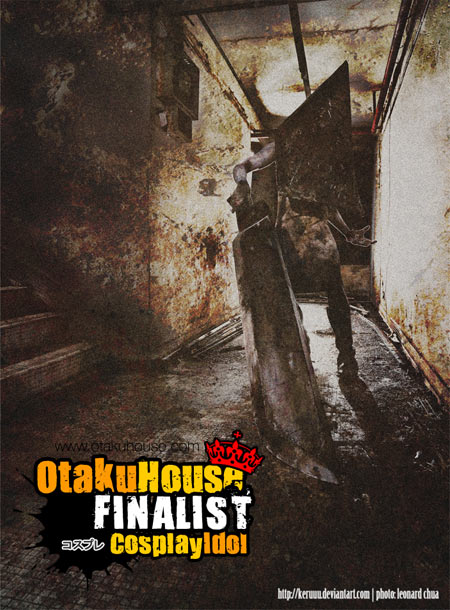 Description: Silent Hill is one of my absolute favorite video game series of all time and I love the second game for its masterful storytelling and dark themes. Pyramid Head is one of the more iconic monsters featured in the game as he torments the lead, James, throughout the story and represents judgement for his sins. Masahiro Ito's designs for the creatures are fantastic and I couldn't think of a better way to pay homage to Team Silent. This was made back in 2007 and was my first proper video game character cosplay. The helmet was probably the most difficult to get right because I wanted the shape to be perfect and I added lots of texture and dirt to it using paper mache and dry-brushed acrylic to capture the dirt and grime that is so prevalent within the game.
Photo Credits: Pix Story Photography/Leonard Chua https://www.facebook.com/PixStoryPhotography